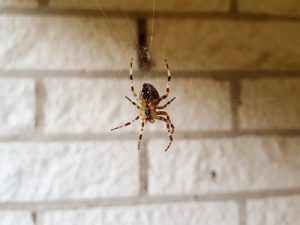 Many pests love the warm weather and sunshine Texas provides. One of those is spiders. While many are content with living amongst humans, we are not so comfortable having to share our private space with any eight-legged arachnids, especially, when we are unsure of whether they could be harmful.
Most spider bites aren't strong enough to harm humans because their fangs are too small. All, except for the black widow and brown recluse. Their poison can cause nerve damage, which could result in death if left untreated.
To help you identify some of the spiders you see hanging around your home or workplace, we've included a list of some of the most common house spiders found in Texas.
Black House Spider – Adults average to be 1/2 inch in body length and are dark brown to black with a textured appearance. They spin webs in secluded areas such as window framing, eves, gutters, brickwork, sheds, rocks, and bark.
Wolf Spider – Relatively large, they range in size from 1/4 to 2 inches long, are hairy, and greyish-brown with a Union Jack impression on their back. Wolf spiders are commonly found indoors in dark, moist areas near sheds, garages, and basements. These spiders do not spin a web. They stalk and hunt their prey in open grasslands, fields, suburban backyards, wooded areas, and around streams, lakes, and marshes.
Hobo Spider – Females are 1/2 to 2/3 inches, and males are smaller at 1/4 to 1/3 inches. They are brown with a zigzag (herringbone) pattern on the top of the abdomen with evenly colored, hairy legs with no rings around them. Hobo spiders typically live in dark areas near flower beds, beneath rocks, woodpiles, and around the foundations of houses. Indoors, you will discover them living in your basement and in dark recesses like corners. They are not great climbers and usually stay at ground level.
Brown Recluse Spider – Also known as violin spiders because of the dark brown violin-shaped marking located on their cephalothorax. Instead of eight eyes, a brown recluse has six that are arranged in pairs. They are about 3/8 inches in body length with light-colored legs. They make small webs in hidden places, but never out in the open. Indoors they can be found in basements, cardboard boxes, storage closets, shoes, and any laundry left lying in a pile. Outdoors, they seek shelter in woodpiles, garages, and sheds.
Black Widow Spider – Considered the most dangerous spider in North America, they got their name because the female will commonly eat the male after mating. Females are 1/2 to 1 & 1/2 inches long with a shiny black abdomen and red hourglass marking on the underside of their abdomen. Males are about half the size with smaller bodies, longer legs, and yellow and red bands and spots on the bottom of their stomach. Outdoors you will find a black widow hanging on its web with its belly upward near woodpiles, debris, hollow stumps, rodent burrows, and in sheds, garages, and underneath stones. Indoors, they prefer the cluttered areas in basements and crawl spaces.
Funnel Web Grass Spider – Generally brown or grey with light and dark stripes close to the head and around 3/4 inches in length. Outdoors, they commonly build their webs on the ground, around steps, window wells, foundation, and bushes. It isn't common to find a grass spider indoors as they prefer to be in tall grass, heavy ground cover, and on the branches inside of big shrubs.
Jumping Spider – You can identify these spiders by their tiny size and giant eyes. Instead of scurrying, they jump and quickly move around objects. You can find them in the cracks of hardwood floors, creases of drapery, bookshelves, and underneath furniture, doors, and window molding. These spiders are harmless and are helpful in removing pests.
While most spiders are timid and shy and do not seek to harm humans, many bites are a result of their webs being destroyed. If you have spiders living in your home or business, we can help you get rid of them. For more information on our pest control services or to schedule a consultation, please call Critter Control® of Dallas today at 817-222-1101.