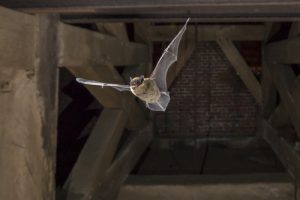 Possibly one of the most misunderstood animal species in the world, bats are incredibly beneficial to people and the earth in general. Bats typically consume 1/3 of their bodyweight in insects each night, with some bats eating upwards of 3,000 mosquitoes per day. Other species are effective pollinators in desert and tropical climates. The government recognizes that bats can be a nuisance to residential and commercial properties, and they recommend "bat-proofing" or bat exclusion methods.
Endangered Status
Both the Endangered Species Act of 1973 and the Fish and Wildlife Coordination Act of 1956 protect the six federally listed endangered bat species. Federal law not only protects the bats, but their habitat as well.
State-threatened and endangered species are protected under state law, though regulations vary by state and bat population.
Additionally, international law protects bats. All bat species are protected in the United Kingdom, and it is illegal to possess, injure, or kill a bat. Violators are subject to fines and up to six months imprisonment.
Other Regulations
Most states require permitting for pest control operators, and additional permits are required for the taking of listed species only, if those bat populations present a health risk to humans.
Permits are required for wildlife rehabilitators to take in injured bats as well. Federal law prohibits the collection of bat carcasses of listed species, however.
Do You Have Bats in Your Home?
Bats commonly seek shelter inside attics when they need a place to nest and birth their young. It is illegal to remove bats while immature pups are present as they cannot fly, but we can work with you to create an exclusion plan that safely removes them as they mature. If you think bats have taken up residence in your home, call us today at 817.222.1101 to schedule a home consultation.