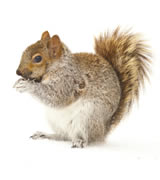 Squirrels: cute woodland creatures or rats with bushy tails? It all depends on your point of view. Squirrels playing in the tree in your front yard are pleasant, fun creatures. But, if you have squirrels in your house or squirrels nesting in your attic, then pleasantness can turn into a nightmare.
Squirrels in Your Attic? Call Critter Control of Dallas
Squirrels are one of the most recognizable animals in the United States. Their twitchy demeanors and bushy tails make them instantly adorable, and though they may be considered harmless, cute little tree-dwellers, they can cause a lot of trouble for residential areas.
Critter Control in Dallas understands how troublesome squirrels can be for any type of structure or area, and our team of expertly-trained technicians can solve any pest issue with environmentally sound and humane techniques. It's important to understand squirrels so you can assess the best way to deal with any issues you may face.