Bats are becoming an increasingly common issue for many homeowners in the Dallas area. Whether it be during the chilly winter months, or the warm Dallas summers, bats love attics for the dark, quiet seclusion and protection from the elements that they offer. Bats enter the attic in a variety of ways, but the most common are through holes in the soffit around your home, or through ventilation ducts.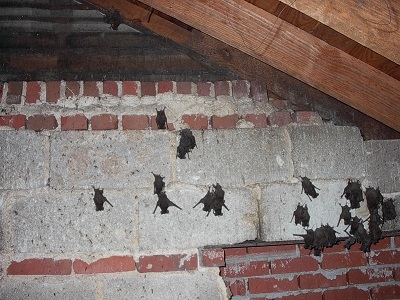 How do I know if I have bats?
Because of their small size and nocturnal nature that keeps them quiet for much of the day, bats can be tricky to detect if you don't know what to look for. Some of the telltale signs of bats in the attic include:
Bat sightings around your property or home in the evening or early morning hours
Brown, greasy-looking marks around vents or attic entrances
Chirping, squeaking, or scratching sounds coming from the walls or attic at night
Bat droppings, or guano, found anywhere inside or around your home is a surefire way to tell if a few pesky bats have taken up residence in your attic
Because bats are known to transmit infectious disease like histoplasmosis through their guano, we do not recommend trying to remove bats from your attic on your own. Allow the trained professionals at Critter Control® of Dallas to safely remove any bats and guano from your attic for you.
If you suspect that bats have invaded your attic, the bat removal experts at Critter Control® of Dallas are standing by to help. Give us a call today at 817-222-1101 with any questions or to schedule your free home inspection.